http://www.nzherald.co.nz/northern-advocate/news/article.cfm?c_id=1503450&objectid=11381321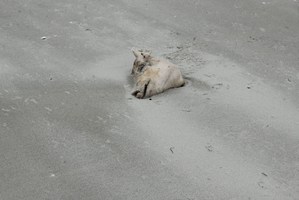 Race tension over Uretiti Beach crab hunting
By staff reporters
1:35 PM Sunday Jan 4, 2015
Don't take law into own hands, say police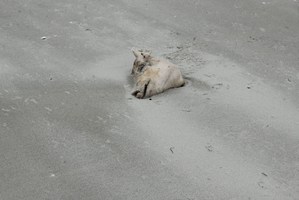 Anti
-Asian sentiment is bubbling under the social
media surface
after
pigs
heads and chicken carcasses were left littering a beach where a crab hunter
drowned
on Christmas Day.
Website and
Facebook
comments have sent a strong message to hordes of Aucklanders of
Asian
descent heading to Uretiti Beach to gather paddle crabs - you are welcome, but take your rubbish
home
with you.
The tone of some messages is stronger, with references to the visitors being unwelcome at "our
beach
" and threats to "not hold back" if visitors were found with rubbish.
Police are warning people not to take matters into their own hands, after
sentiment
escalated
following
the discovery of a pig's head and numerous chicken frames that had been used as
crab
bait.
Paddle crabbing at Uretiti hit the headlines again these holidays after an
Auckland
man of Chinese descent
drowned
while paddle crabbing on the beach on Christmas Day.
Twenty other crab fishers also had to be rescued. The dead man was the second Chinese person to drown on
Christmas
Day at Uretiti Beach while catching paddle crabs in recent years. Hui Jin, 47, a cafe owner, drowned there on December 25, 2011.
But as well as the physical danger to people catching crabs on the beach, some of the fishers have also been leaving behind large amounts of dead animals on the beach, much of which is then washed into the sea, attracting sharks and also washing up on nearby Ruakaka Beach.
The
mess
has had residents up in arms, with the Ruakaka Beach Facebook page publicising the mess and garnering plenty of critical comments from upset Northlanders, with some
threatening
to physically confront anybody they catch dumping rubbish.
Senior Sergeant Rob Huys, at the Northland Police District Command Centre, said police had not received any complaints about activity on Uretiti Beach, but he warned anybody concerned about the situation not to take matters into their own hands.
"People should not attempt to take the law into their own hands, regardless of the situation," Mr Huys said.
"If they have any concerns they should ring their local police station and we will assess things and deal with it appropriately. The last thing we want is for something that's relatively minor, escalating into something
more
serious that could lead to negative outcomes for everybody."
Posts on the Ruakaka Beach Facebook page said the community welcomed visitors, but dumping animal
carcasses
on the beach was not on.
The posts did not condone violence, but said the situation was a concern. As well as being disgusting it was also potentially dangerous.
Ministry of Primary Industries Northland district compliance manager Steve Rudsdale said the daily limit for paddle crabs was 50, and there was no size limit.
Mr Rudsdale said honorary fisheries officers kept a close eye on the paddle crabbers and none had been found to have taken more than their daily limit.
He said some of the fishers were spoken to a couple of years ago about not leaving rubbish on the beach and the problem seemed to improve.
*
Any suspicious activity in the marine environment can be reported to 0800 4 POACHER (
0800 476 224
).