Sixty pilot whales stranded in Bay of Plenty
9:01 AM Wednesday Nov 5, 2014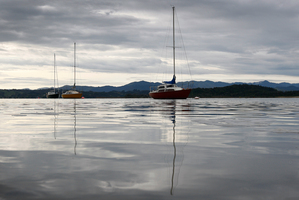 Experienced volunteers from around the country have arrived to help save up to 60 stranded pilot whales in the Bay of Plenty.
Yesterday, two pods of pilot whales were seen in Ohiwa Harbour , Whakatane. Some of the whales beached themselves on the ocean side of the harbour.
By 7am this morning, about 20 whales were reported to be dead, with about half of those euthanased.
The Department of Conservation told Radio New Zealand about 60 pilot whales were in trouble.
About 70 Project Jonah volunteers were working with the department to get whales back in the water. Whakatane Coastguard was also supporting the effort.
Whale strandings in the Bay of Plenty of this magnitude were rare.
"There hasn't been an event of this size that anyone can recall," the Department of Conservation's Mike Jones told Morning Report.
Rescuers hoped high tide at 5pm this evening would be a chance to get the distressed whales back in the water.
Local police have asked members of the public not to go onto the beach.
Whale rescue volunteers and conservation staff are hoping an outgoing tide this morning will help save stranded pilot whales.
Mike Jones from the Department of Conservation (DoC) said about 10 whales died overnight but 30 were re-floated before nightfall.
"We've got 20 whales currently stranded," he said at 9am this morning. "In the next 30 to 60 minutes we are going to attempt a re-float on the outgoing tide."
Mr Jones said volunteers from whale rescue group Project Jonah had done a good job readying the animals, including some of pod's larger matriarchs, "to be able to re-float them to encourage the rest of the group to potentially get back out into deeper water".
Mr Jones said a helicopter was monitoring the waters off Whakatane. He said there were encouraging signs whales saved earlier were not returning to shallow water.
A badly injured whale was found up the harbour channel early afternoon.
That animal's companions were probably concerned for its well-being, possibly causing the mass stranding, he said.
"Often it's to do with a sick or injured whale that comes in. And the pod naturally wants to come and support that injured one."
Mass pilot whale strandings were more common in the Golden Bay area, the far North, and the Chatham Islands. Most strandings occurred in spring and summer.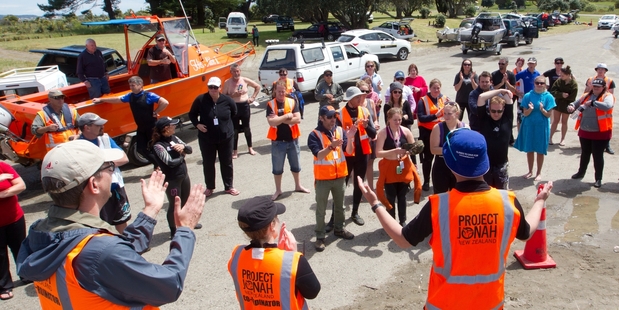 In this book, I had a chapter on Jamie, volunteering to save a pod of stranded whales.